Situation:
Cutting out fine structures of watch parts from brass and aluminum alloy sheets (thin in thickness) with a laser cutting machine. Laser marking on watch parts is quite complicated in design and requires utmost precision in machining due to the fact that parts are very tiny. Distortion of the parts by even most minimal degrees is unacceptable and close dimensions should be accurate enough to be used in luxury watches.
Solution:
Such an intricate type of work is performed with our fine laser cutting machine with the best of precision. Machining parameters changes in accordance with the design and material. The mentioned laser cutter has a high level of specifications with very fine features and options to change the pulse duration; thus, we can switch from long pulses to shorter ones with ease and is extremely effective for regions where heat accumulation needs to be avoided without compromising the cutting intensity.
Procedure:
Fiber laser equipped with a world-class f-theta lens is used to cut out watch hands, dials and intricate gears from 0.2 mm thick sheets of brass and avinol. The power and pulse duration varies with the design requirement. Shorter pulse duration with high power and an increased number of loops for making a fine outline is followed by high-intensity longer pulses with decreased loops for complete removal of cut out.
However, aluminum alloy sheets of the same thickness due to low melting flashpoint and higher absorption coefficient can be machined at a lower number of passes. While machining such low thickness sheets, care should be taken to avoid bending of sheets due to heat accumulation, therefore, sufficient air cooling at the time of machining is provided.
Ultrasonic cleaning of the finished samples is performed after machining to remove unwanted burrs formed at the edges of the cut-out. The samples are kept in the cleaning enzymes for 15 min at 33-degree celsius temperature, and then cleaned with D.I. water for further cleansing. The microscopic images of the cleaned samples are shown down below.
A few of laser marking samples on watches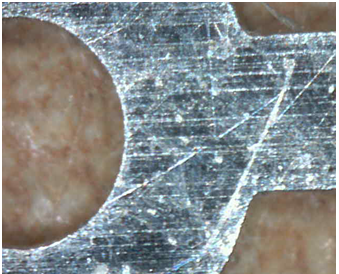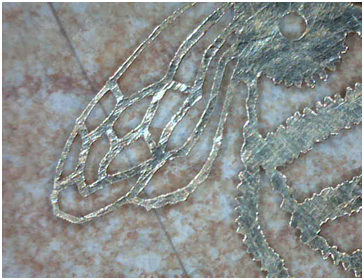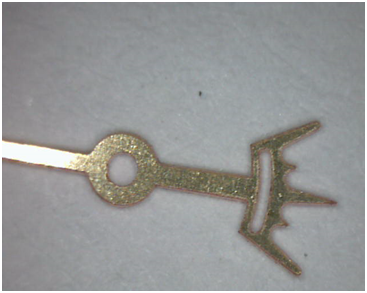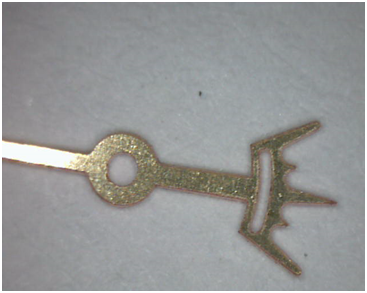 The finished samples have smoother edges, with no trace of burrs at the edges. The cutting is precise though signs of bending of samples at some points are evident in few samples and this may be due to the very fine thickness of sheets that accumulates heat at some point of machining and thus gets distorted.
For more details visit us at
Email us: info@markolaser.com
Check out our website for different technologies