Laser engraving machine accessories: We are proud to present an excellent European Laser Technology at very affordable price. We are using premium quality components from France, Germany, and the UK to ensure long trouble free life of the system for you.

Laser engraving machine accessories: A fiber laser or fiber laser is a laser in which the active gain medium is an optical fiber doped with rare-earth elements such as erbium, ytterbium, neodymium, dysprosium, praseodymium, and thulium. They are related to doped fiber amplifiers, which provide light amplification without lasing. Fiber nonlinearities, such as stimulated Raman scattering or four-wave mixing can also provide gain and thus serve as gain media for a fiber laser. Here we would like to highlight a few benefits of our laser machine MARKOLASER-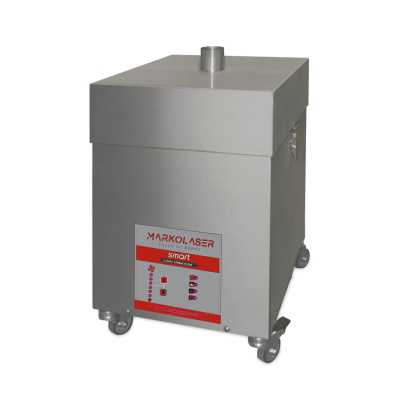 Technical Specification
Machine
Fiber Laser
Model No.
Markolaser Smart1-10w
Specs.
10 watts
Wavelength
1064nm
Modes of Operation
Pulsed/cw
Full Range Power
20-500Khz
Beam Diameter, Nominal
32micron
M2
~1.6
Red Alignment Laser
Standard
Electrical
24 V/10A
Environment
10°C to 35°C
Cooling Type
Air Cooled
Marking Field
110mm
Connected Load
650 watts
Humidity
5% to 95% (Non Condensing)
Smart Fume Extractor
The AD Fusion has been designed to work with the new generation of low cost laser systems where effective fume extraction is needed in order to maintain safe operator working conditions and assured product quality.
The AD Fusion provide s high performance at affordable prices and is ideally matched with small laser systems.
A three stage filter condition indicator is included as a standard feature, together with three stage filtration : pre filter, HEPA and chemical section.
STANDARD FEATURES:
Automatic flow control
Filter condition Indicator
Deep Pleat pre filter
Advance Carbon Filter technology
Long life, low cost replacement filters
Low noise levels
Small footprint
OPTIONAL FEATURES:
VOC gas sensor (Volatile Organic Compound)
Remote stop / start interface
Filter change / System fail signal
Featuring Deep
Pleat filter technology
Featuring Advanced
Carbon Filter technology
Automatic Flow Control
The entry-level fume extractor for laser coding, marking and engraving systems.
for more details visit us at
email us:
info@markolaser.com
Check-out our website for different technology.