Important sections of
Medical industry
Part traceability and UDI
Medical Industry is one of the most high-risk product manufacturers. From ranging to wheel chair to the stent, all the products are directly related to health of the patient. Hence, error while manufacturing of these products or a minor defect could prove to be very costly to the life. Counterfeiting! Is the problem worst hit by genuine medical OEMs, this problem not only causes a lot of money to the manufacturer; but too have risked lives of millions. To deal with this dilemma one of the key solutions is traceability of the medical equipment.
Surgical Scissor

Laser Marking of UDI Codes on Stainless Steel Instruments

Annealing of the stainless steel done in accordance to GS1 standards with DMC and HRC. The surface of the steel is charred only to a certain depth in few microns to comply with the medical safety standard marking. These marks though permanent are also corrosion resistive. Apart from fulfilling UDI traceability requirement; direct part marking can also be helpful in Healthcare organizations to manage their inventory and can be linked with patient ID as code in internal servers whereby the information could serve to connect patient surgery history with all the instruments used on them. DMC code is marked in respect to the guidelines defined by ISO-16022, which is an international standard for "Data Matrix Bar-code Symbology Specification"

Features:

Medical Device: Surgical Scissor
Material: SS316 and SS 410
Laser Machining Type: Annealing UDI
Marked By: 20W DE- HF Fiber Laser
Marking: Logo and 2D Data Matrix
DMC Size: 2.71 mmx 2.71 mm Avg.
Marking Time: Marking Time: 5 sec.

Prefer machine

Surgical Clips

Direct Code Marking on Titanium Instruments

Grade 1 titanium is one of the most used titanium grades in health care industries for manufacturing surgical instruments. Due to its superior form ability and corrosion resistive properties they are used to produce most complicated tiny surgical implants and instruments. The vessel clips are marked with UDI compliant codes and manufacturer logos in accordance to DPM guidelines defined in the standard ISO/IEC 24720. The main advantage of direct part marking is to avoid any chances of felling off the printed labels inside patients body while operating. These marks could easily withstand bodily plasma and high temperature.

Features:

Medical Device: Surgical Clips
Material: Grade 1 Titanium
Laser Machining Type: Ablation UDI Mark
Marked By:20W DE- HF Fiber Laser
Marking:2D Data Matrix
DMC Size: 2.71 mm x 2.71 mm Avg
Marking Time: 5 sec.

Prefer machine

LDPE in-vitro diagnostics Packaging , Nylon In-vitro diagnostics and HDPE Bottles

Medicinal packaging comes with Licence No., Production info. Of company such as Lot No., Manuf. Date & Expiration Dates. These Data while manufacturing should be intact and must remain unaltered to avoid catfishing, removable data could prove to be fatal for the consumers. Hence, while packaging these Data should be placed on the packet itself with Laser marking either they belong to LDPE make or HDPE. We at Markolaser provide best of the solutions to pharmaceutical industries to place the information without use of detachable Labels.
HDPE in-vitro diagnostics are also clearly marked with scale to analyse the Blood samples.

Features:

Medical Device: LDPE in-vitro diagnostics Packaging , Nylon In-vitro diagnostics and HDPE Bottles
Material: Font marking
Laser Machining Type: Annealing UDI
Marked By: 20 W Normal Fiber Laser
Marking: Logo and 2D Data Matrix
DMC Size: 2.71 mm x 2.71 mm Avg.
Marking Time: 2s approx.

Prefer machine

Retractor

Laser Marking on Metallic Hip Joints

Artificial Hip joints are engineered in a way that it could bear with fatigue and load three times the body weight, to ensure impact resistance they are designed using Chromium-Vanadium material, due to their biocompatible properties these joints can be used for many years without replacing, Therefore, permanent-legitimate UDI marks are required for safe traceability for the period from production to implantation. Fiber lasers provides with the best marking results.

Features:

Medical Device: Retractor
Material: SS
Laser Machining Type: Contrast laser marking
Marked By: 20 W DE-HF Fiber Laser
Marking: Logo and 2D Data Matrix

Prefer machine

Laser marking on medical equipment Hip Balls

Micro-Data Matrix Code are real challenge to mark as well as read perfectly, due to space restrictions in Conical & Cylindrical bone screws made of titanium alloys which have maximum diameter of 1-2 mm; it is difficult to find flat spaces to mark. With our fine beam Lasers, it is still possible to mark readable codes of size 0.4mm and indeed contrasting for total traceability of smaller implants.

Features:

Medical Device: laser marking on medical equipment Hip Balls
Material: Chromium Vanadium
Laser Machining Type: Black Marking
Marked By: Fiber Laser
Marking: Logo and 2D Data Matrix

Prefer machine

Conical or cylindrical Dental Jaw screw

Features:

Medical Device: Conical or cylindrical Dental Jaw screw
Material: Titanium Alloy
Laser Machining Type:Small DMC 0.6x0.6 mm, Annealing
Marked By: 20W DE HF

Prefer machine

Tooth crowning

Features:

Medical Device: Tooth crowning
Material: Ceramic
Laser Machining Type:Traceability Fonts (Serial No.), Black
Marked By: Fiber Laser


All the implants are marked by Laser as these marks are biocompatible to bodily fluids and remains intact for several year, hence undetachable marks remains on the surface and is resistant toward the germs. Easy track and trace can be achieved. Laser markings are permanent and are abrasion, heat and acid resistant.

Prefer machine

Pipette, Burete, Flasks, Cylindrical Measurement

Features:

Medical Device: Pipette, Burete, Flasks, Cylindrical Measurement
Material: Glass Borosilicate
Laser Machining Type: Emulsion removal DMC
Marked By: 20W Normal

Prefer machine
UDI Marking
Unique device identification (UDI) is a series of numeric as well as alphanumeric characters created through internationally accepted device identification and coding standards and thus allowing unambiguous identification of specific devices available in marketSeptember 2013, Under FDASIA Act of 2012 amendment sec. 519(f), The U.S. Food and Drugs Authority (F.D.A.) published regulations for establishing UDI systems and came into law in year 2014 for the medical devices to be marketed in U.S. They have directed for standardized labelling to completely enable global identification and tracking of medical devices.Though these regulations are applied for medical products that are produced or imported in U.S. but European Union and Countries like Brazil, China, Australia and India are also planning to implement similar global standards in their health industry and have already prepared frameworks to do so. European commission is responsible for the implementation of UDI regulation in E.U.
21 USC 321(h) defined the devices subjected to requirement of UDI rules and classified medical products into three classes according to their potential of causing harm to patient and functionality. For example, low risk products such as bandages and gloves are classified in Class 1 devices whereas class 3 involves complex medical products such as pacemakers, knee prosthesis which have higher risk to human life if they malfunctioned after being implanted. Class 2 products usually involves surgical instruments and moderate risk metal products for general hospital use.So according to UDI norms these products are to be marked according to their class. Some products need to be directly part marked, whereas some can be identified with UDI marked on labels and packaging. These exceptions depend on various factors such as available area of marking, either product reprocessed or sterilized, whether device an implant etc. Mostly class 2 devices which undergoes autoclaving cycles are needed to be directly part marked. The rules and regulation could be found in e-CFR site under section 21 CFR 801.45 (d).
click link: t.ly/l7Yg7
The UDI system aims for:
Increased safety of patients
Authentic medical products
Efficient product recall
Better logistic and delivery process
Better documentation of product in supply chain
Prevention of incidents
Reducing medical errors
As per 21 CFR 801.40 the UDI on medical devices must be represented in two forms:
Machine Readable Code (Linear Bar Code or 2D data matrix)- AIDC.
Human Readable plain text (Alpha-numeric characters)- HRI. The UDI code must be issued by FDA issuing agencies and must follow ISO/IEC 15459- 2, -4, -6 standards. The AIDC format should follow the ISO/IEC 16022 and their print quality conforming to ISO/IEC 15415, 15416 & TR 29158.
The UDI code must consist of two parts
Device Identifier (D.I.)
Production Identifier (P.I.)
The D.I. consists of identification of labeller/manufacturer and P.I. consists of various attributes of medical product such as Lot no., Serial no., Manufacturing date, Expiration date etc. They both are integral part of an UDI code.
UDI Database
The labeller and manufacturer of medical products with the UDI labelling must submit the labelling/marking information into a central database of FDA called The Global Unique Device Identification Database (GUDID- also pronounced as "Good ID") containing key device identification information to adequately identify devices marketed in U.S. The GUDID consist of DI only; PI are not submitted or stored in GUDID. The GUDID data is linked globally, which helps to identify the device all round the world.FDA has created a portal namely "AccessGUDID", to make device identification information available for everyone involved in the health supply chain; even the patients can access the information on the online portal. https://accessgudid.nlm.nih.gov/
Characteristics of Direct Part Marking (DPM)
The required features of the Direct part marking on medical instruments are:The mark should be permanent, traceable & error- free.Marks should be high in contrast, and readable from all the angles.Marking should be resistant towards corrosion and repeated sterilization cycle.DPM should not affect the actual functionality of the device and remain passivated.
Challenges Faced in DPM of UDI
One of the major problems faced for DPM of medical instruments such as surgical scissors, needles etc. which are mostly made up of steels, titanium; is the repeated sterilization cycle and resistance towards corrosion which thus affect their readability with passage of time, affecting the traceability which is contrasting to the idea of UDI. Also, poor positioning of marks, low contrast marks and wrong formatting is some of the major concerns for supplier chain and manufacturers. Hence, proper marking solutions are needed for manufactures to direct part mark their products to comply with the strict UDI regulations.
According to GS1 the preferred options for UDIs DPM on medical instruments are laser marking and dot peening. They are preferred over other available methods of marking such as continuous ink jet marking, thermal ink jet printing and RFID as these marks need to be sometime as small as nib of pencil (approx. 6.25 sq. mm) and marking methods other than Laser marking does not fully accomplishes the requirements of UDI.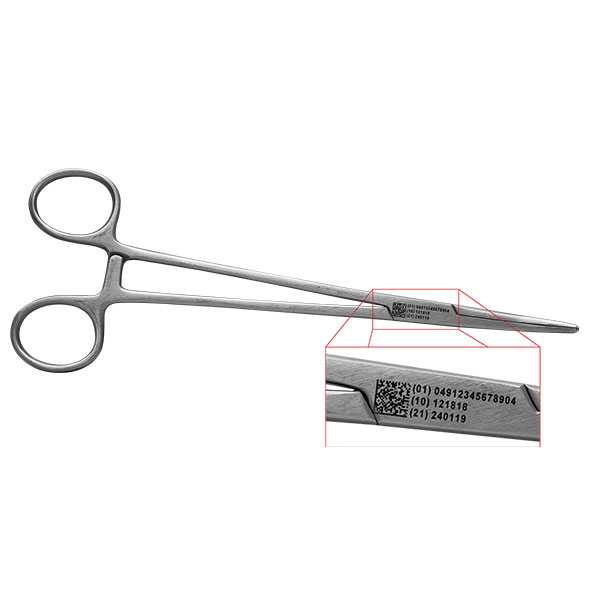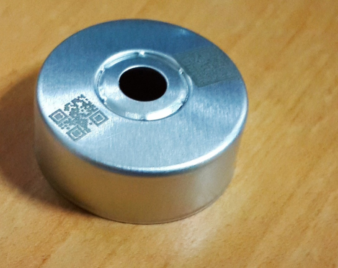 Surgical Instruments
Surgical Instruments are mostly made up of steel, titanium, ceramics or synthetic resins. The most common ones are SS- 304, 316L, 410, 430. Due to their improved mechanical properties and stability they are used for surgical device, the Laser Marking is best used method for marking visible UDI marks as paper labelling could prove harmful; as there is a chance of falling off the labels while sterilization or during surgery in patient's body.Why using Laser for UDI DPM? Why not other processes feasible?
| Marking- Characteristics | Laser | Ink-Jet | Dot Peen | Chemical Etching |
| --- | --- | --- | --- | --- |
| Readability | Good quality with high contrast; good machine-readability | Lower quality marks with low contrast | Poor mark resolution with low contrast | Good quality readable marks with high contrast |
| Erosion Resistance | Full proof resistance toward erosion | No resistance towards erosion | Resistive towards erosion | Erosion could be there for component |
| Sterilization Resistance | Resistive towards repetitive sterilization | Non-permanent marks containing chemical | Resistive towards sterilization | Risk of losing marking is there |
| Passivation Resistance | Resistive to passivation process | Resistive to passivation | Not too resistive to passivation | Resistive but risk is there(test needed) |
| Marking Size | Perfect marking obtained and size adjustable | Limited marking size obtained | Limited marking size | Compact codes cannot be printed |
Laser Marking on medical devices and its advantages
Laser marking has no alternate in permanent marking when it comes for medical devices that goes under repeated passivation.Mostly medical devices and surgical tools are made of Stainless Steel 304-316 or Titanium.These materials consist of chromium oxide(corrosion-resistant layer) on its surface.A laser mark visually contrasts with the natural color of the alloy to make the mark visible – the purpose of the markThe style of mark required by the medical device industry is called a "dark or annealed mark". This mark does not remove any material from the part and so avoids any potential for any contamination to collect.Standard fibre- lasers or Picosecond Laser can produce such type of dark marks.These Dark mark from Lasers are Desirable as they are visible from all the angles.Laser marks are also precise and passivation resistance.
UDI Marking with Markolaser
As already known medical industry specifications are quite strict and have to be precise, so is important the traceability of the product and thus the marking needs to perfect. We at MARKOLASER® provides complete solution for Direct Part Marking with a single source laser and software module specially designed for generating high contrast, corrosion resistant marking at any kind of metallic surfaces.With our MARKOMARK software along with our high-speed nanosecond lasers generating accurate and stable Black oxidation Data matrix marks over repeated time; required for safe traceability of medical instruments. Also, our Laser machine is Hassle -Free with short processing time and produces less fume thus the procedure remains contact free and hygienic, giving "cradle to grave" marking solution of complex 2D and Linear bar Codes.To comply with the strict specification of standardization in medical industry our research team follow these standards for marking and testing of samples for legitimacy of reading: < Document Related to Direct Part Marking (DPM) of Surgical Instruments according to GS1 Standards and following Japan Association of Medical Devices Industries (JAMDI) guidelines to comply with global UDI system of Traceability.Using ISO standards of DPM quality guidelines (29158) for Laser Black Marking on steel instruments.Corrosion Testing of Marked area complying with ISO (9227) and ASTM (F 1089) standards of corrosion test.Our research team have studied results on short pulse fiber laser marked 2D data matrix on SS 304(passivated) surgical device undergone through 100 sterilization and cleaning cycle(steam sterilization and alkaline cleaning) and found out marks remained stable and resistant towards corrosion and fading. Acc. to IS 7531:1990.