Electrode construction

3-Axis laser engraving on a curved copper EDM electrode.

Speed Up Electrode Manufacturing with Laser Systems

Manufacturing of electrodes is an essential step in the development and construction process of a tool which require electrical discharge machining (EDM)

Laser engraving machine helps in accelerating the production of electrodes of any complexity. Using advanced 3-axis laser cutting or engraving machine, electrodes can be made with high-speed, smooth and accurate finishing. Our step-by-step solution lets you automate the entire process from design through production – reducing time and production costs.

Engraving on hardened (HRC 60 – 62) cold working steel for punching

Die making depends on its application and requirement. In order to choose the appropriate steel for a die, it is vital to be aware of tool stress which helps in deciding which grade of steel needs to be used for making a particular die.

Laser engraving and cutting is the best way to make punch dies, as tools used in making punches may break due to the varying hardness of the tool and the die.

Extremely fine laser engraving on punch dies

Extremely fine engraving on tool steel punches used as embossing tools for hallmarking on jewellery and in the swiss watch industry as 'case makers mark: Poinçonsde Maître'. Specially curated laser engraving system with extremely fine laser beam diameter < 20 um.

Our specially curated laser engraving machines for such fine and intricate work.

Milling Tools

Milling cutter are used for cutting tools used in milling machine to perform milling operations

We at markolaser helps the operator identify the right milling tools of different drill diameter and variable dimension . We optimize the operator working time .We mark datamartix code on cylindrical and curve surface with ease with high quality of contrast

Turing /threading /Grooving

Grooving and threading are single-point machining. A groove is usually machined to allow full travel of the nut.

Nut is very small part, UDI on the smaller part with high quality of contrast is possible with markolaser laser machine . Markolaser puts a permanent mark on all type of surface, doesn't fade away even after many cleaning cycle.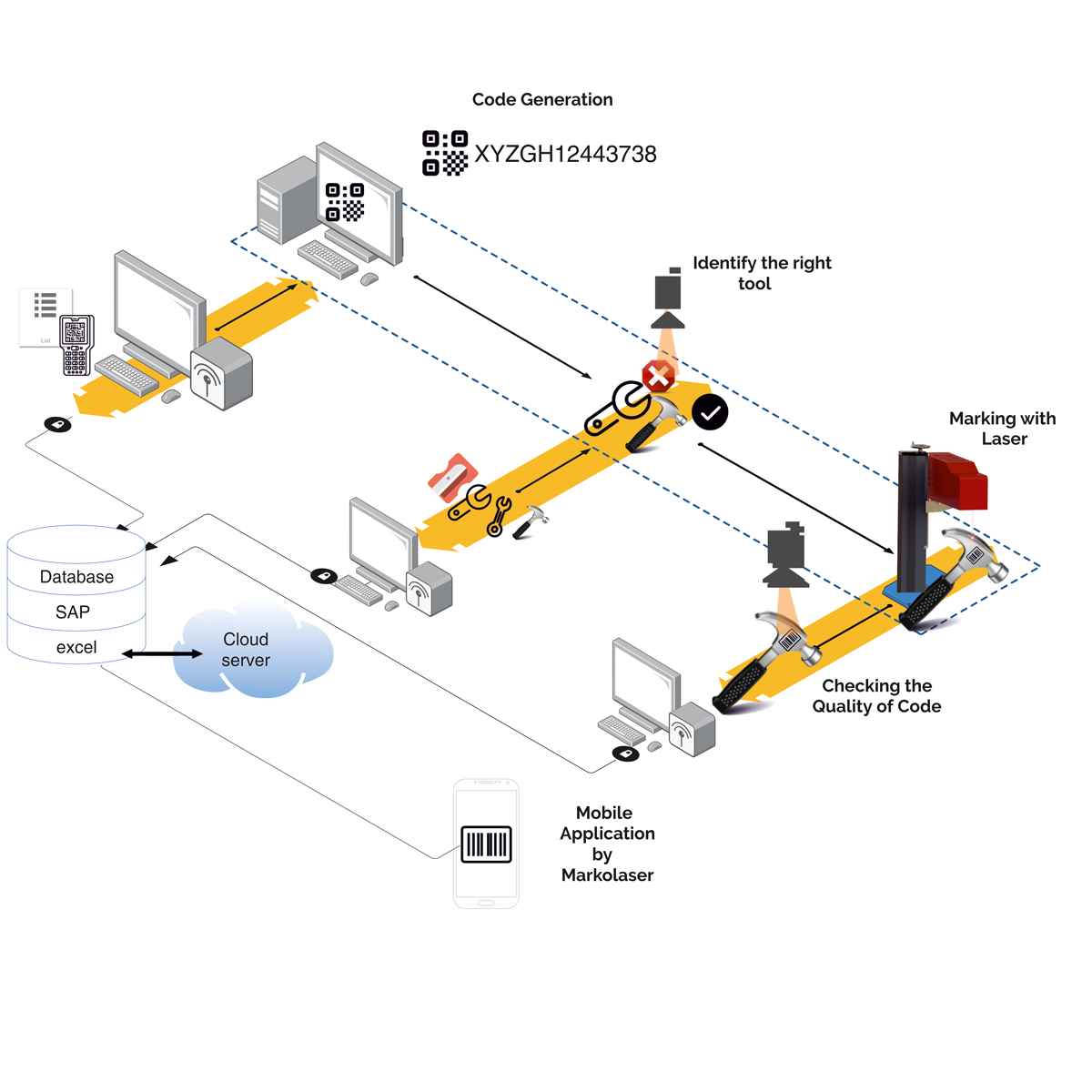 Markolaser provides a standardized connection with database as per the requirement of the customer with the existing database of the customer
Markolaser provides customized software individually programmed by markolaser for our customer for implementing the unique device identification for each tool i.e iTRACY UDI software solution
iTRACY software generates the code for unique identification of the tools
The vision camera provided by Markolaser identifies and inspect the right tools for marking of UDI code or data matrix code on it
Our URSA laser marking machine will mark UDI permanently with great quality of contrast, which can be read by any scanner, even after numerous cleaning cycles
In the subsequent steps the quality of the code will be checked and the grade of the unique code is defined for the quality control
The marked code is cross checked and compared with the database for the verification of code. The inspection data will be updated to the database against the unique code. The camera that markolaser provide can be used to capture the data-matrix code and upload to the database for future. The Operator name, time, laser parameter , laser used , the inspection instrument used and grade of the code is saved in the database and will be there forever in the database for all types of information.