Traceability
Traceability is defined as "the ability to trace history, application or location of an entity by means of recorded information. It provides real-time information on where, how and by whom parts are produced and integrated". In the supply chain of any manufacturer it provides the ability to track production, product recalls, match replacement parts, etc.
Traceability in the Automotive Industry:
Traceability in the automotive industry is becoming more and more prominent nowadays for part tracking and tracing during the manufacturing process and also to track the finished product in a supply chain in order to reduce product recalls, which is the major problem in the present automotive market.
Part traceability is currently the buzzword in the automotive industry. Its goal is to get 'cradle to grave' information on each part. Complete traceability in an automobile is achievable by marking each and every part, subassemblies and assemblies that are used in building that automobile. This is practiced at every stage of the manufacturing process. Marked information mainly includes source manufacturer, place of origin, production time and date, lot number, part number, model number, serial number, expiration date, etc.
So, is it worth the efforts it takes to mark on thousands of parts used in building an automobile? Yes, it is, because:
Traceability eliminates the risk of consequences of human error and provides error-proof tracking and tracing system.
It adds information to the supply chain to make it more informative.
Provides complete identification of automotive parts at any stage of part's lifecycle.
Solves the problem of counterfeiting.
Helps in reducing the recalls, rejects and cutting down liability costs.
Traceability helps with total quality management throughout the product's lifecycle.
Real-time tracking optimizes supply chain and reduces waste.
Since automated traceability is gaining more prominence by time; it is imperative to encode data in machine-readable form. Common symbologies used for this purpose are 1D barcodes (code 128), 2D barcode (PDF417), and 2D matrix code (Data matrix ECC200 or QR-code). These days Data Matrix and QR code are preferred choices because of their ability to store more information in less space. And the supplier and the customer decide on what information is to be encoded.
Technologies available for traceability:
There are two types of technologies available for traceability. They are:
Optical (DPM): Direct Part Marking can be done by LASER due to its high productivity; highly flexible i.e. can mark on a variety of materials; non-contact process; less or no maintenance etc. DPM comes up as the only alternative when marking should be permanent, marking area is extremely small or when the part is to be used in harsh conditions.
Non- Optical (RFID): Radio Frequency Identification is non-optical identification technology, in which digital data is encoded in the form of RFID tags and read by the reader via radio waves.
Samples at a glance
Why MARKOLASER for traceability solutions?
We at MARKOLASER® provide a complete solution for Direct Part Marking with a single source laser and IIOT ready customized software with a flexible user control interface. It is compatible with any server/database/ERP of the client, such as Oracle RDMS, SAP Sybase SE, Microsoft SQL Server, Teradata, MYSQL, etc. regardless of location and devices.
Markolaser's manufacturing execution system (software) allows clients to generate codes and serialize products, components, processes, material, and subparts as per the client's requirement. Our experts suggest DPM or RFID solutions to clients after the examination of situation, conditions, requirements, and constraints.
We bring to you a sensor control interface to monitor parameters one needs to activate and raise an alarm in case of any emergency.
Markolaser provides you scanners for verifying the quality of unique codes marked and thus letting total quality management up to the mark across the supply chain.
We provide you premier quality readers and machine vision cameras procured from our partner COGNEX for machine-readable codes generated for traceability.
Our intelligent sensors in combination with the software monitor the data on components and system continuously and keep generating reports on that periodically.
Markolaser provides its clients with the vision system integration facility for vision measurement, color inspection, segregation, etc. thus, making production performance analysis easier.
Our automation operation provides clients an option to set the values for x, y & z axis manually for better automation.
We provide our clients with flexibility and an open platform where one can update and manage any amount of data against a unique code.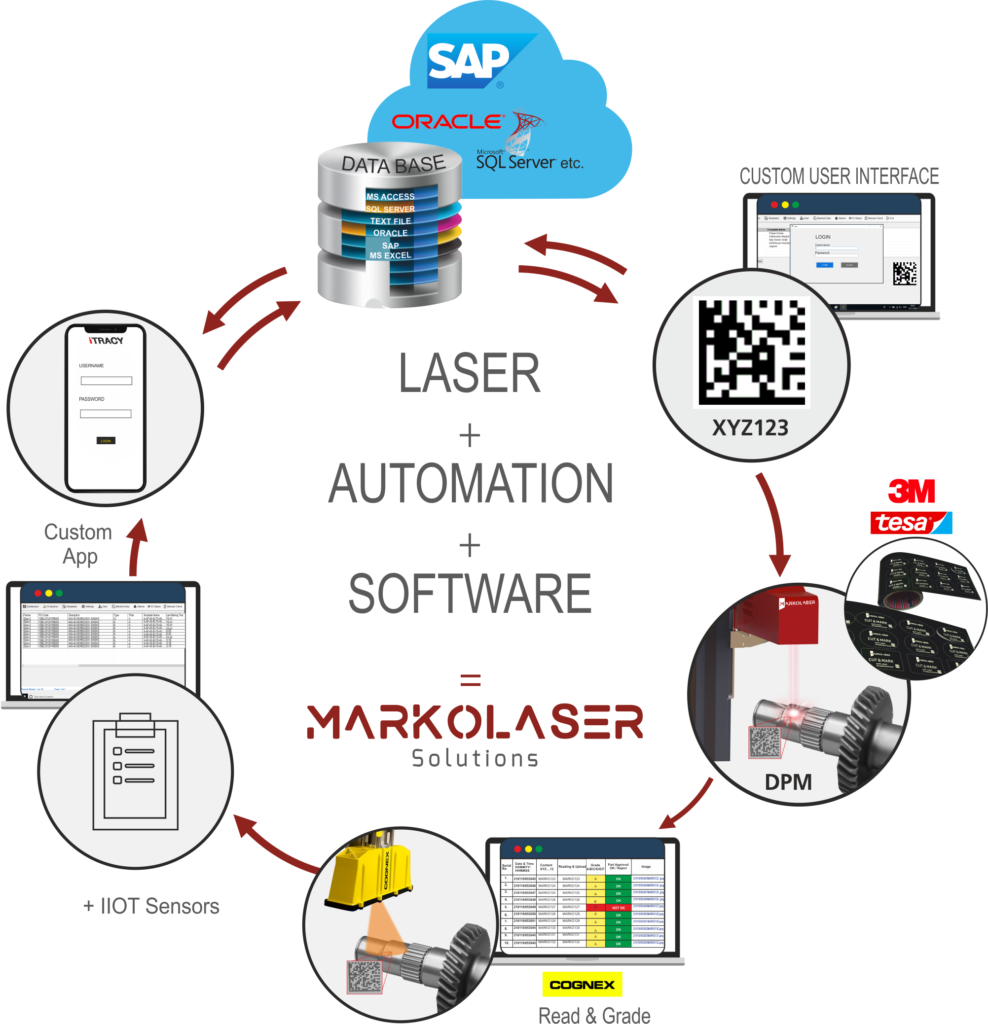 For more details visit us at
Email us:
info@markolaser.com
Check-out our website for different technologies